Top-Rated New Braunfels Seamless Gutters
What exactly are seamless gutters? While you may have previously heard the term, seamless gutters are customized and fitted to your house with exact measurements. Unlike traditional gutters, seamless gutters prevent debris buildup, ultimately reducing the number of clogs your gutter may otherwise face. They also conveniently cut down on the amount of routine maintenance. When you're looking for custom gutter installation, there's no one better than Texas Gutter King.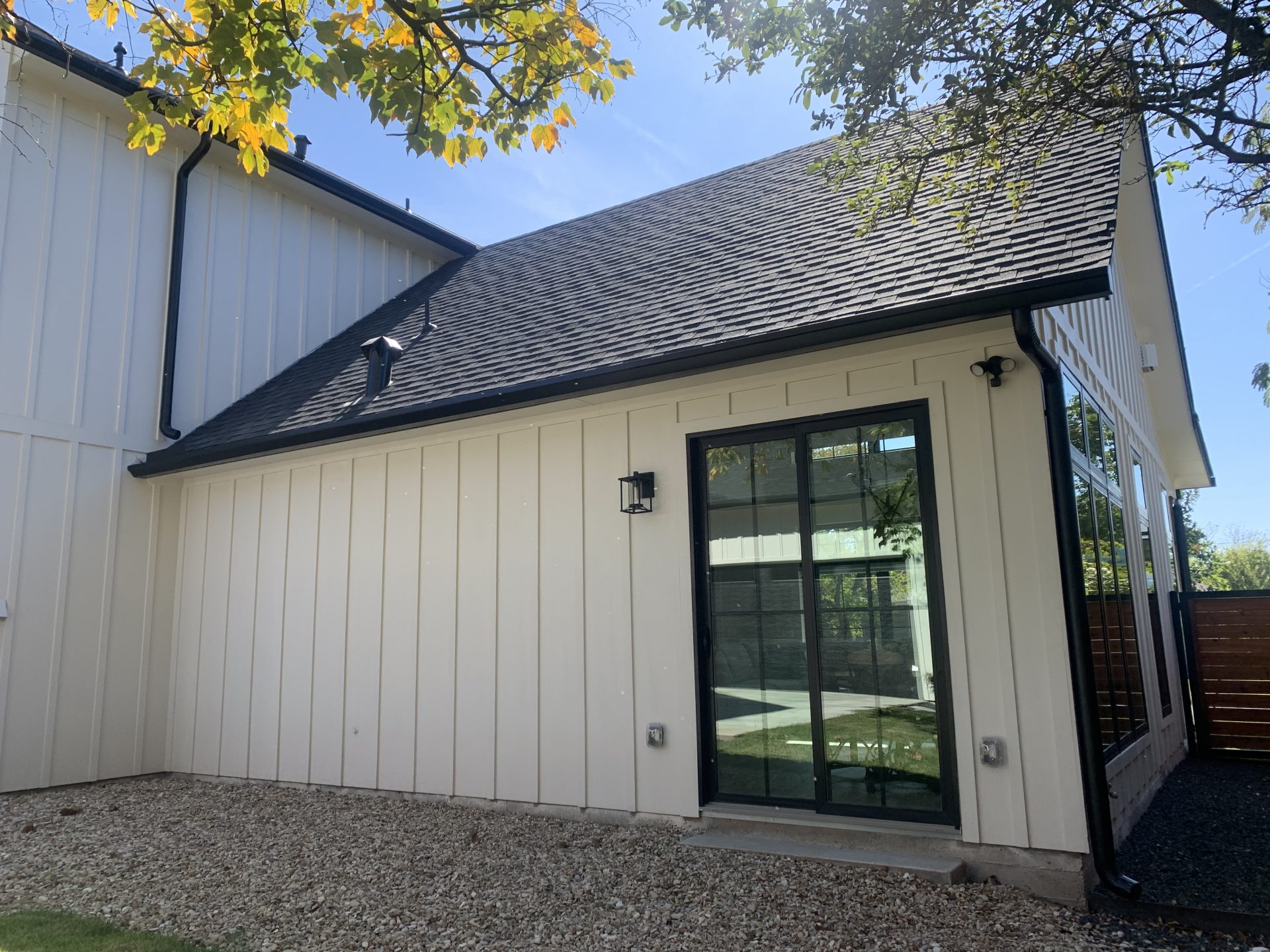 Here's everything you need to know about the seamless gutter installation process and why it's the right choice for your New Braunfels, Texas home.
The weather in New Braunfels, Texas, can be a little tricky. Like many other parts of the country, it suffers from rain, extreme heat, and strong winds. This rainfall is what makes gutters so important. If your gutter is clogged with debris such as dirt, grime, leaves, and even tree branches knocked down by howling winds, it forces water to drip over the side of the gutter. Where does land? In many cases, straight into your home's foundation puts it at risk of cracks and other structural damage.
Furthermore, this trickling water can result in basement mold growth, putting you and your loved ones at risk of developing allergies, insomnia, and depression. As noted above, seamless gutters offer many benefits – and preventing mold growth and structural damage to your home is one of them.
Find a Gutter Service Near You
But it's just homeowners turning to custom gutters in New Braunfels, TX. It's local businesses, too. New Braunfels businesses are at more of a financial risk if they suffer structural damage due to a faulty gutter, as it can put a financial strain on the business and temporarily shudder doors while the damage is repaired. With custom gutter downspouts, you're protecting your investment. Furthermore, you're cutting down on ongoing maintenance as they can last for decades.

Search: New Braunfels Gutters
This is why, when looking for New Braunfels custom gutters, you need to turn to a company that has been doing this kind of work for years. The team at Texas Gutter King has decades of experience installing all types of seamless gutters. Our clients include everyone from homeowners to garage and warehouse owners. Click here to learn more about what our clients are saying about us.
New Braunfels, Texas, is named after the German town of Braunfels, which means "brown rock." In New Braunfels, there are a significant number of German Texans. New Braunfels was frequently spelled Neu-Braunfels throughout the nineteenth century. Every November, New Braunfels hosts Wurstfest, a "sausage festival." Every year in December, the town also holds Wassailfest in the historic downtown.
If you need seamless gutters in New Braunfels, turn to the best. Your home and business are too much of an investment not to get the best seamless gutters in New Braunfels, Texas. Call us at (210) 879-1723 or visit us online for a free quote about how much seamless gutter installation will cost you.
Gutter Services
The New Braunfels custom gutters services we provide are performed at your location. Our professionals work on your property as we cut, attach, and fit your custom seamless gutters. Customer satisfaction is very important for our team members. We want you to know we will do everything possible to ensure you are delighted with our gutter-related services.
Gutter Maintenance
Gutter Extensions
Seamless Gutters
Half-Round Gutters
Top-Rated Gutter Installation
Like many Texas homes, accumulating water on your house can be pretty challenging. If you've seen the damage from your roof's exposure to mother nature, you know exactly how tough it can be. You can avoid water damage and leaks by installing a solid gutter system that diverts water away from your roof. As a result, your roof, siding, or basement will not accumulate as much mold and mildew, which can negatively affect you and your family. Whether installing new gutters or replacing old ones, getting the most up-to-date gutters is always a good idea for effectively protecting your home.

Texas Gutter King takes pride in being the industry leader in gutter installation for New Braunfels residents. We have over two decades of experience installing and replacing best-in-class gutters for your home. No house profile or project is too difficult for our team to tackle. Our team is made up entirely of Texas Gutter King employees, so you can rest assured that your gutter installation will be handled with the utmost care. We are confident in our ability to install an effective gutter system that will prevent damage and extend the life of your home. We also believe that your gutters should not be an eyesore on your home, so we offer the broadest range of gutter styles, materials, and profiles to ensure that you can match your gutters to your home.
Expert Gutter Replacement
If you live in New Braunfels, Texas, and need gutter replacement or installation, contact our team of dependable professionals at Texas Gutter King. We provide unique gutter styles as well as fully insured gutter installation. When you schedule a consultation, we'll provide you with a free estimate so you can see the specifics of your project. Our gutters are fully insured and come with the best industry warranty of 15 years or lifetime, so you don't have to worry about the cost of repairs and maintenance in the future.
We look forward to learning more about you and your gutter installation and replacement needs!
Repair and installation of downspouts
A proper downspout for your gutter system can significantly improve your home's curb appeal. Not to mention that it will keep the gutter system in working order. You can find exactly what you need with our extensive selection of materials, shapes, colors, and finishes. Texas Gutter King will handle the entire installation process. Furthermore, we can inspect your gutter downspouts for signs of clogged gutters, sagging, leaking, or draining too close to the foundation, and repair or replace them as needed.
Gutter Guard Installation
Professional gutter guard installation in New Braunfels, TX, has a lot of additional benefits, such as prolonging the life of your home or business's gutter system and dramatically cutting down on how much time you have to spend inspecting and cleaning out your gutters. While you should check your gutters twice a year to ensure they're okay, professional gutter and leaf guards can do an excellent job of preventing buildup all the year. Our Gutterglove Pro can ensure you'll never have to clean out your gutters again.
Homeowners or business owners that live in shady, heavy-tree populated areas in New Braunfels, Texas, should invest in leaf protection, as their gutters will be more susceptible to leaf and tree branch buildup. Leaf guards for gutters are a game-changer. But, if you're on a budget, you can still get the gutter leaf filter protection you both want and need, thanks to Texas Gutter King's available Leaf Blaster. This light-duty filter is an excellent alternative to Gutterglove Pro, which offers the same protection but at a cheaper rate. We also offer top-rated new gutter installation services and more!
What Do We Do?
We've established a reputation in the New Braunfels area as a dependable and hardworking gutter installation company. We walk our customers through every step of the process and never recommend a service that isn't absolutely necessary to keep your property in good condition. When the time comes, we hope you will choose Texas Gutter King to replace your gutters.