The best rain gutter system you can have in your home is copper. Copper is a living material with the ability to change over time. It ages beautifully, turning many different colors, much like fine wine. Copper rain gutters are not only visually appealing, but they also last a lifetime. They require almost no maintenance and can last for up to 100 years. In terms of appearance and performance, seamless copper gutters outperform sectional gutters found in home improvement stores. Using our roll-out gutter machine, we custom-fabricate copper gutters for your home or commercial building on-site.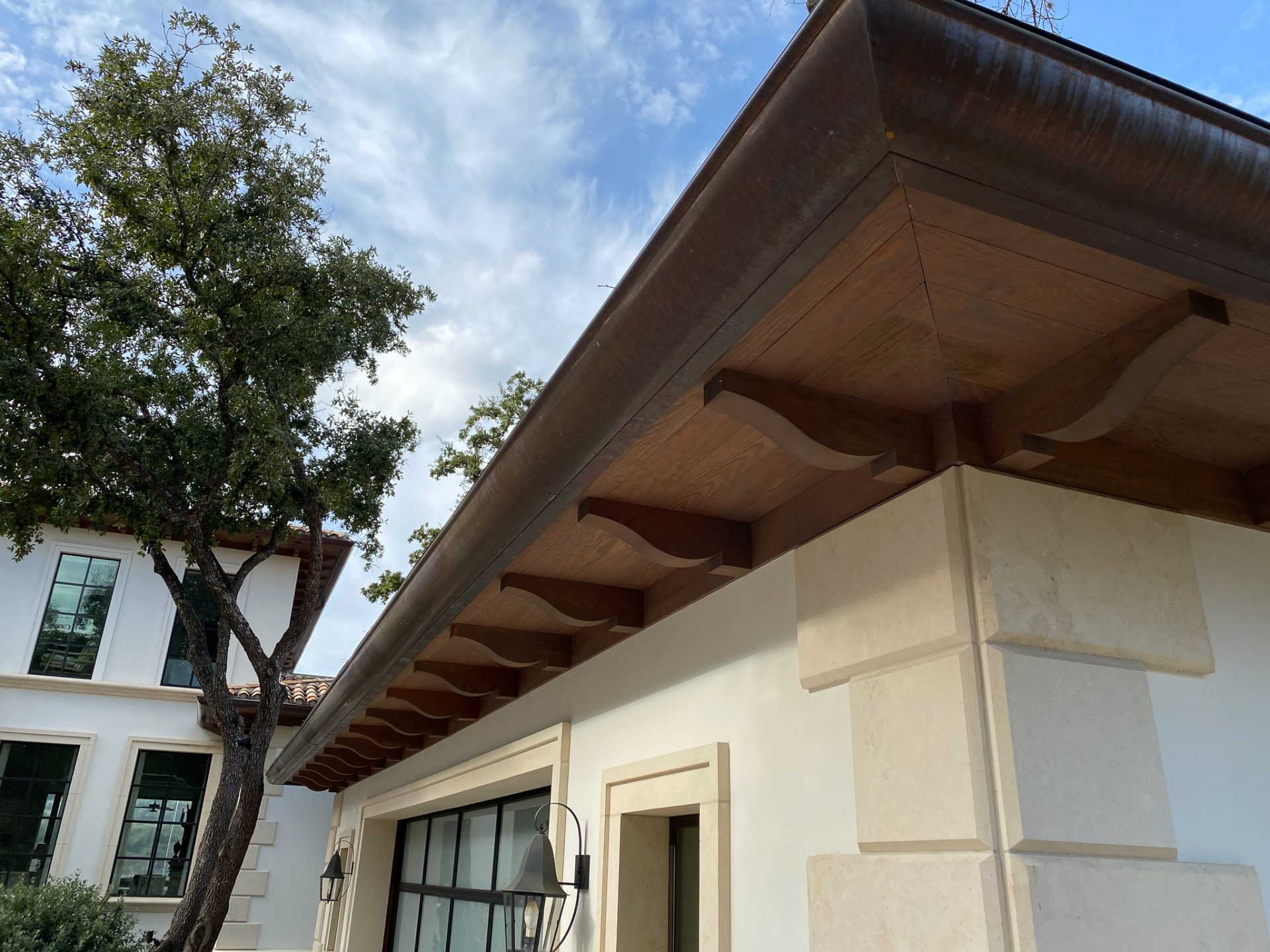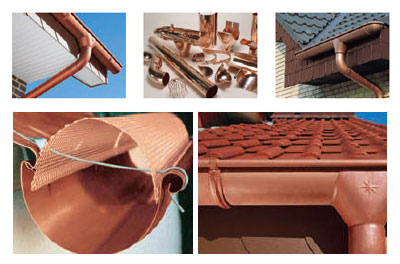 Copper is durable and compliments a wide range of roofing materials, including slate, cedar shakes, and composite roofing. Copper gutters do not need to be painted, but homeowners who want to reduce the development of a patina may want to strip and re-seal their copper with products designed for this purpose on a regular basis.
Types Of Copper Gutters
All of our gutter profiles are available in copper, so we can easily compliment your home:
Seamless copper gutters in styles like half-round, quarter-round, OGEE (K-style), and straight-face.
Sectional 8″ half-round copper gutters
Lead-coated copper gutters
K-style copper gutters
Copper's Beauty
Copper adds a distinct architectural element to the home that many homeowners overlook. You can also add decorative brackets, leader heads, and rain chains to your Copper Rain Gutters to make them even more appealing. Copper rain gutters can give your home a truly stunning appearance and instantly exude class.
Patina: Weathering and oxidation give copper its distinctive green appearance. This process can be accelerated in some areas due to the acidity of the atmosphere.
Professional Copper Installation Techniques
All of our copper gutters are soldered, which is the only way to do copper correctly. Many companies will rivet and caulk their copper joints, but those will eventually fail.  Soldering ensures the gutters will never come apart and that water won't ever leak.
Durability
Copper gutters are strong and can withstand any weather. It makes no difference whether the temperature is subzero in the winter or 100 degrees or higher in the summer. The gutters will never deteriorate regardless of the weather. You will never have to worry about your gutters sagging or falling off your house if they are properly installed, and these seamless rain gutters will never leak.
Copper Gutters Cost
Copper rain gutters are typically more expensive than aluminum or steel rain gutters due to their superior quality and associated material costs. Although the initial cost may appear to be high, their durability means you will never have to replace your gutters as you would with traditional gutters. There's also the aesthetic appeal and added value they'll bring to your home.
Best in class material
Adds immediate value to your home
All corners and end caps are custom cut and soldered
Examples of our work with copper gutters are shown below. For more information on copper gutter products and custom options, please call Austin Gutter King today.