5-Star Rain Gutter Contractors in Texas
Texas Gutter King offers professional and affordable rain gutter installation and repair across Texas. We provide a wide range of gutter products, including copper, aluminum, seamless, and galvanized rain gutters. Relax and leave it to the professionals. We would be delighted to work with you and demonstrate why our extraordinary rain gutters and seamless gutter services set us apart from the competition.
The importance of professionally installed and maintained gutters cannot be overstated. As your five-star gutter contractor, we strive to provide homeowners with the desired aesthetic while providing the dependability and longevity they demand from their gutter system. As a result, we offer the option of selecting a gutter material and style that enhances the appearance of your home, thereby increasing its curb appeal. Texas Gutter King can assist you in creating the look you want, regardless of whether you intend for your rain gutters to stand out or blend in.
Gutters and Downspouts
Gutters and downspouts play an essential role in the overall upkeep of a home or business. Gutters' primary function is to collect rain from the roof and direct it away from the foundation. Pools form in the absence of gutters, and yards erode. Foundations become wet. Water seeps into the structure and the underlying sand. Thousands of dollars in damage is possible.
Gutter and downspout installation takes into account the pitch and size of a roof, the features, and size of a yard and driveway, as well as the architecture and layout of the entire property. While many parts of a property or business draw attention, well-installed and efficient gutters strive to be a subtle, unnoticed, yet functional structure from both an aesthetic and a maintenance standpoint.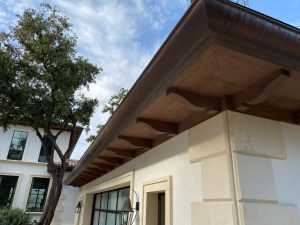 Gutters and downspouts are available in various shapes, configurations, materials, and colors. Gutters can be seamless or sectional, having or without leaf guards. Some gutters are made of aluminum, while others are made of galvanized steel. Depending on the material, some gutters may be painted after installation, while others may come in pre-fabricated colors.
A variety of decorative gutters are also available on the market. Half-round gutters, hidden mounts, decorative hangers and shanks, and copper gutters are all possibilities. Most copper gutters are custom-made and have coatings to help prevent wear and patina.
Gutter maintenance increases the value and curb appeal of a property while also protecting it from erosion, water damage, cracked foundations, and dry rot. Professionally installing gutters and downspouts is a worthwhile property investment.
Copper Rain Gutters
Copper gutters can improve the curb appeal of your home. These gutters will patina and turn a brilliant green color over time. The patina gives them vintage or antique appearance while protecting them from rust and erosion, making them the most durable material on the market. It's a great way to make your home stand out while increasing its value.
Galvanized Rain Gutters
Galvanized gutters are zinc-coated, providing additional protection and resistance to the elements and physical damage such as hail. Steel can be painted over to match your home's style and improve weatherproofing. Galvanized steel does not suffer thermal warping, making it ideal for use in hot or extreme weather conditions.
Galvalume Rain Gutters
Galvalume gutters are coated with an aluminum-zinc alloy, which increases their durability and resistance to rust and color fading. They look similar to galvanized gutters but are duller in appearance. They are also reasonably priced for homeowners.
Color Rain Gutters
Choose from our 20 color gutter options to get the look you want while getting the durability you require. Make your gutters stand out or blend in with your home. Can't decide which color to use? You can choose different colors for different areas of your home.
Leaf Filters
Gutter guards are a screen material that we mount on top of the gutters to protect from debris getting into and clogging them. Clogged gutters or downspouts are the most common cause of gutter system failures, and gutter guards assist in avoiding this problem.
Stop clogs
Get rid of the need for cleaning
Keep debris out of your gutters
For an estimate, give us a call or click the button below. Don't pay outrageous prices for things you see on TV. Our product works perfectly and is professionally installed by our installers.
Soffit and Fascia
The exterior soffit is placed beneath the rafter tails on the span, whereas the fascia is the outer horizontal band at the end of the rafters. Such architectural elements found along the eaves do more than simply add visual interest and give your home a polished look. They protect the exterior of your home by keeping pests like bats, birds, and squirrels out and provide a way to conceal attic ventilation.
Soffit is generally made of extruded vinyl in Texas, and fascia is bent aluminum. We have a wide range of colors to match the style of your home. Please contact us for a free estimate.
Texas Gutter King Locations & Service Areas
Texas Gutter King is expanding! We're based in Texas and provide seamless rain gutter installation and replacement for homes and businesses. Call us now at 512-982-4080 to ask if we already have Texas Gutter King technicians in your area, or click on a link below to see more about our service area and our experience in your city or surrounding areas:
Texas Gutter Blog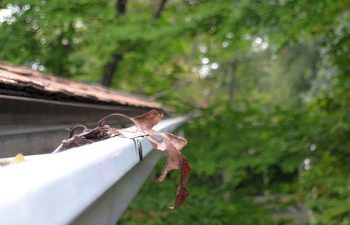 Fall Gutter Cleaning: Tackling Leaves – Before or After? Expert Tips to Help You Decide As the vibrant colors of autumn foliage paint the landscape, it's easy to get lost…
Frequently Asked Questions about Rain Gutters
Wouldn't my builder have provided rain gutters for my home if I needed them?
Builders are not required to install rain gutters in Texas. Some conscientious builders include a complete Rain Gutter system, while others provide only a partial system, but the majority do not include Rain Gutters.
What does "seamless" mean in the context of seamless rain gutters?
The seamless rain gutter machine was invented in the early 1960s and became commercially available in 1969. Previously, gutters were made by hand on a 10-foot sheet metal brake (which bends and forms the gutter into shape). These gutter sections were installed with seams every 10 feet. Our seamless gutter machines can now fabricate sections to exact house measurements, and we can produce lengths of more than 100 feet without a seam.
What is the purpose of rain gutters?
Despite the low annual rainfall in many parts of Texas, we have plenty of low-lying cloud cover, morning and evening dew, and condensation. This water lacks the volume and velocity required to exit the roof and fall away from the house. Over time, it will wick back to the fascia and cause various issues, including wood rot and stucco damage. Most of the time, this goes unnoticed until it is too late.
Safeguard your foundation.
Excess moisture around the foundation will result in hydrostatic pressure, soil erosion, and settling. This movement will cause cracking and other foundation damage over time. The primary function of rain gutters is to collect roof water and direct it to a manageable area via downspouts. The homeowner will be able to direct the water away from the foundation.
Prevent erosion of landscaping.
Instead of rainwater running along the entire perimeter of the house, gutters direct it to a manageable area with downspouts, where it can be diverted away from your landscaping. Ideally, into a ground drainage system.
Protect your home.
Unmanaged roof water can also cause fascia and other framings to rot. Siding and stucco can swell and crack, with splatter staining being the most common issue. A good seamless gutter system will also protect your doors and windows. Unfortunately, most homeowners are unaware of these risks until the damage has already occurred.
Why should I hire Texas Gutter King to install my rain gutters?
For over 48 years, Texas Gutter King's seamless rain gutters have delighted Texas home and business owners. We take great pride in our knowledgeable, courteous employees who provide you with the most honest, dependable, and timely rain gutter installation, repair, and maintenance services all around Texas. Call us today for a free estimate!