Protect Your Home With Custom Gutters
The gutter system in your home plays a vital role in protecting your building materials from receiving water damage during heavy rainstorms. The gutters act as water channels, allowing the water to flow through them and into the ground surrounding your home. Gutter systems keep water from flowing into areas of your home that could be susceptible to receiving water damage. If you have been looking for a seamless gutters San Antonio, TX company that can take care of your home's gutter system, then the experienced team from San Antonio Gutter King would like to introduce ourselves. We have been in the gutter industry since 2001, and we have a wealth of San Antonio seamless gutters experience and knowledge to share with our clients.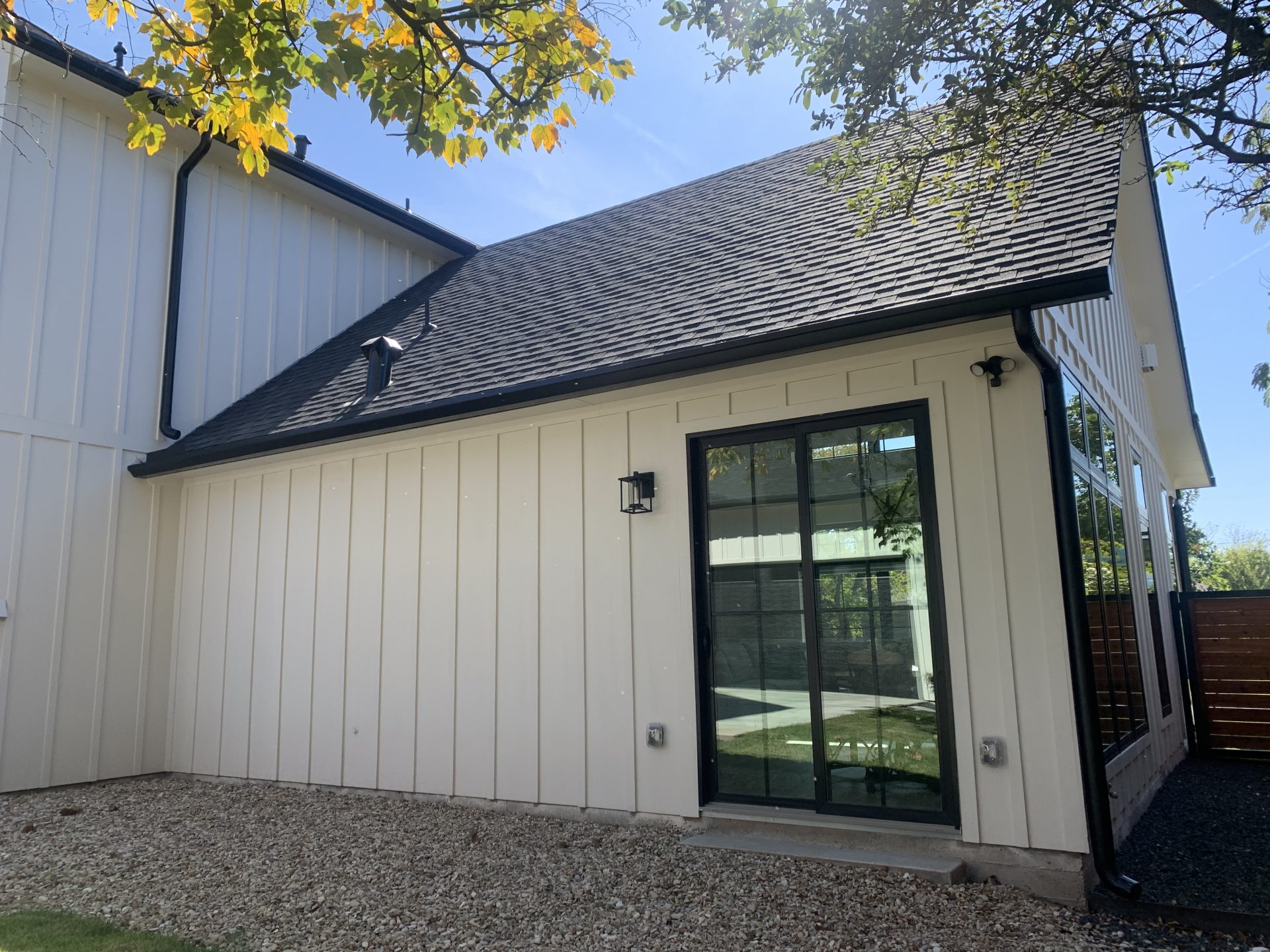 Texas Gutter King is a locally-owned and operated company. Our team members take great pride in helping our neighbors protect their homes with our exceptional gutter-related services. We have many services we offer to our clients, including; seamless gutter installation, custom gutter downspouts, custom gutter installation, and so much more.
Gutter installation, repair, and cleaning on all properties, including single-family homes, townhouses, apartments, condominium complexes, and commercial buildings, are part of our comprehensive services for homeowners and builders.
Some of the most common indications that your gutters need to be repaired or replaced are:
Rainwater coming from places it shouldn't be
Gutters sagging or pulling away from the structure
Rainwater is collected on the roof near the gutters.
Roof rot is evident
The paint on the exterior siding is peeling.
Mildew or Mold near your roof
A quality roof requires quality gutters. If minor damages are not addressed promptly, they can quickly escalate into major problems. However, you do not have to wait for the situation to deteriorate before contacting Texas Gutter King. We will gladly assess the situation and take the necessary steps to correct and repair everything. You can rest assured that your gutters will be in excellent condition following our service.
Find a Gutter Service Near You
We want to help end your search for San Antonio seamless gutters. Over the years, we have had experience working with a wide array of gutter systems. The K-Style, or OGEE gutter, is the most popular gutter within the central Texas region. Our professionals can quickly provide services for K-Style gutters because the materials are prevalent and easy to match with preexisting gutter systems. In addition to working with K-Style gutters, we also work with Straight Face gutters, Seamless Box gutters, Half-Round gutters, and Quarter-Round gutters. Seamless gutters are available in 5", 6", and 7" varieties, depending on the type of gutter chosen for your home. We also offer gutter guards, gloves, and much more!
Texas Gutter King – San Antonio Seamless Gutters
1100 Northwest Loop 410, Suite 700
San Antonio, TX 78213
(210) 942-9528
San Antonio is a thriving and bustling city. The area is home to approximately 1.6 million people, and many more people visit the area throughout the year. San Antonio is a city that is rich in history and in many things to see and do in the region. Many people visit the Alamo Museum facilities in San Antonio and the River Walk area, which runs along the San Antonio River. Several inviting retail shops and cafes line the River Walk, which is an excellent place to enjoy the city and the scenic view of the river.
If you live in San Antonio or the surrounding communities and you have been searching for San Antonio custom gutters near me or seamless gutters nearby, then please remember our experienced team from San Antonio Gutter King. We have access to some of the best equipment and machinery in the industry, and our professionals have plenty of hands-on training and advanced workmanship skills to share with our clients. We are glad to answer any questions you may have about our services. Our experts can also provide you with a free estimate for seamless gutters in San Antonio, TX service.
Gutter Services
The San Antonio custom gutters services we provide are performed at your location. Our professionals work on your property as we cut, attach, and fit your custom seamless gutters. Customer satisfaction is essential for our team members. We want you to know we will do everything possible to ensure you are delighted with our gutter-related services.
Gutter Maintenance
Gutter Extensions
K-style Gutters
Seamless Gutters
Half-Round Gutters
Top-Rated Gutter Installation
Like many Texas homes, accumulating water on your house can be pretty challenging. If you've seen the damage from your roof's exposure to mother nature, you know exactly how tough it can be. You can avoid water damage and leaks by installing a solid gutter system that diverts water away from your roof. As a result, your roof, siding, or basement will not accumulate as much mold and mildew, which can negatively affect you and your family. Whether installing new gutters or replacing old ones, getting the most up-to-date gutters is always a good idea for effectively protecting your home.

Texas Gutter King takes pride in being the industry leader in gutter installation for San Antonio residents. We have over two decades of experience installing and replacing best-in-class gutters for your home. No house profile or project is too difficult for our team to tackle. Our team is made up entirely of Texas Gutter King employees, so you can rest assured that your gutter installation will be handled with the utmost care. We are confident in our ability to install an effective gutter system that will prevent damage and extend the life of your home. We also believe that your gutters should not be an eyesore in your home, so we offer the broadest range of gutter styles, materials, and profiles to ensure that you can match your gutters to your home.
Expert Gutter Replacement
If you live in San Antonio, Texas, and need gutter replacement or installation, contact our team of dependable professionals at Texas Gutter King. We provide unique gutter styles as well as fully insured gutter installation. When you schedule a consultation, we'll provide you with a free estimate so you can see the specifics of your project. Our gutters are fully insured and come with the best industry warranty of 15 years or a lifetime, so you don't have to worry about the cost of repairs and maintenance in the future.
We look forward to learning more about you and your gutter installation and replacement needs!
Repair and installation of downspouts
A proper downspout for your gutter system can significantly improve your home's curb appeal. Not to mention that it will keep the gutter system in working order. You can find exactly what you need with our extensive selection of materials, shapes, colors, and finishes. Texas Gutter King will handle the entire installation process. Furthermore, we can inspect your gutter downspouts for signs of clogged gutters, sagging, leaking, or draining too close to the foundation, and repair or replace them as needed.
What Do We Do?
We've established a reputation in San Antonio as a dependable and hardworking gutter installation company. We walk our customers through every step of the process and never recommend a service that isn't necessary to keep your property in good condition. When the time comes, we hope you will choose Texas Gutter King to replace your gutters.
Bexar County Seamless Gutter Service Areas
Adkins TX 78101
Atascosa TX 78002
Bandera TX 78003
Bergheim TX 78004
Boerne TX 78006
Bulverde TX 78163
Campbellton TX 78008
Canyon Lake TX 78133
Castroville TX 78009
Charlotte TX 78011
Christine TX 78012
Cibolo TX 78108
Comfort TX 78013
Converse TX 78109
Devine TX 78016
D'Hanis TX 78850
Elmendorf TX 78112
Fair Oaks Ranch TX 78015
Fischer TX 78623
Floresville TX 78114
Garden Ridge TX 78266
Hondo TX 78861
Jourdanton TX 78026
Kendalia TX 78027
Kingsbury TX 78638
Kirby TX 78219
La Vernia TX 78121
Lackland AFB TX 78236
La Coste TX 78039
Lakehills TX 78063
Leming TX 78050
Lytle TX 78052
Marion TX 78124
McQueeney TX 78123
Medina TX 78055
Mico TX 78056
Natalia TX 78059
New Braunfels TX 78130
New Braunfels TX 78132
Pandora TX 78143
Pleasanton TX 78064
Poteet TX 78065
Poth TX 78147
Randolph AFB TX 78150
Rio Medina TX 78066
San Antonio TX
Schertz TX 78154
Seguin TX 78155
Somerset TX 78069
Spring Branch TX 78070
St. Hedwig TX 78152
Staples TX 78670
Stockdale TX 78160
Sutherland Springs TX 78161
Tarpley TX 78883
Timberwood Park TX 78260
Universal City TX 78148
Vanderpool TX 78885
Von Ormy TX 78073
Yancey TX 78886