Protect Your Houston Home With Seamless Gutters
Texas Gutter King installs seamless gutters and downspouts for homes and commercial properties throughout the Houston area. Seamless gutters provide your property with the very best water drainage protection for your property against foundation issues caused by the harmful effects of rain runoff on the soil. If you're like most people, your home is your most valuable, expensive asset. Why not protect it? A quality gutter system will provide the proper drainage for your property for years.
Some people believe the primary purpose of a gutter is for the convenience of keeping rainwater off of their porches. That's a benefit, but that's far from the main reason. The primary purpose of a rain gutter is to protect a building's foundation by channeling water away from its base. Rain gutters also help reduce erosion, prevent leaks in basements and crawlspaces, and protect painted or stained surfaces by reducing water exposure.
Avoid Water Damage to Your Home
Houston, Texas, gets 53 inches of rain per year on average. The average annual rainfall in the United States is 38″. Gutters and downspouts allow your roof to drain off the rainwater to prevent long-term damage to the base of your home – in other words, your foundation. What happens to the water when it hits the ground? It doesn't all just evaporate. No, instead, it seeps down around and into your foundation. As the soil absorbs the rainwater, this causes the soil to expand. After the rain, the sun comes out, the temperature goes up, and the ground begins to dry. Now the soil starts to contract. This expansion and contraction of the ground soil put tremendous stress on your property's foundation. This is what causes your foundation to crack, leading to expensive repairs. This is one primary reason for foundation problems in Houston area homes.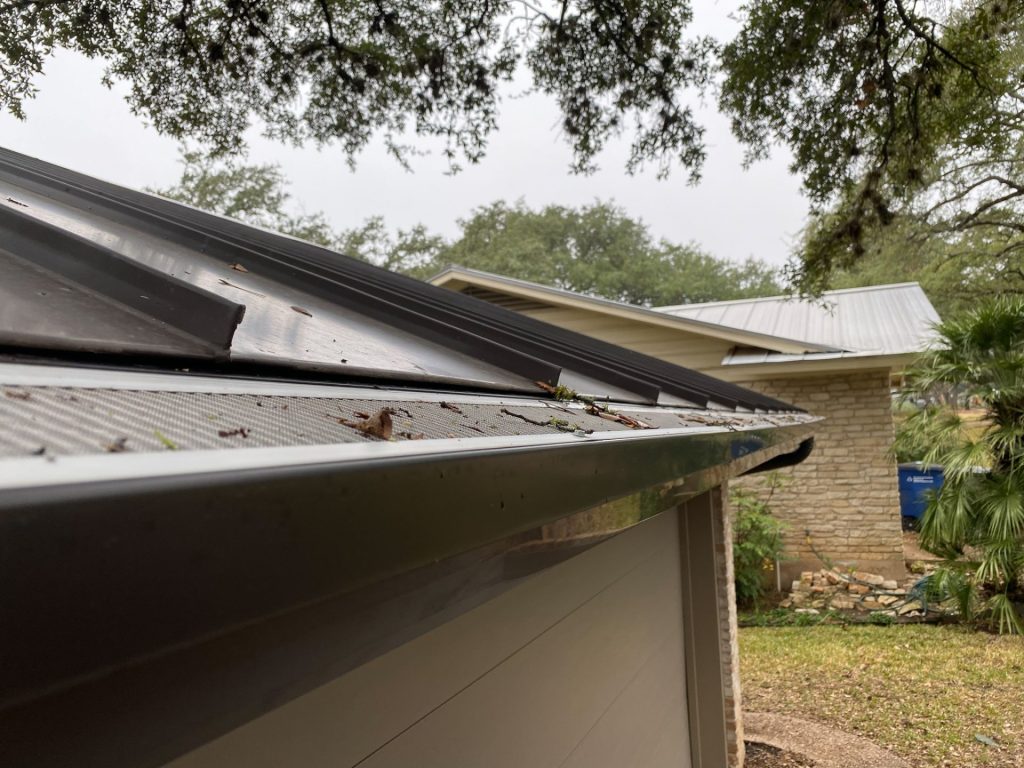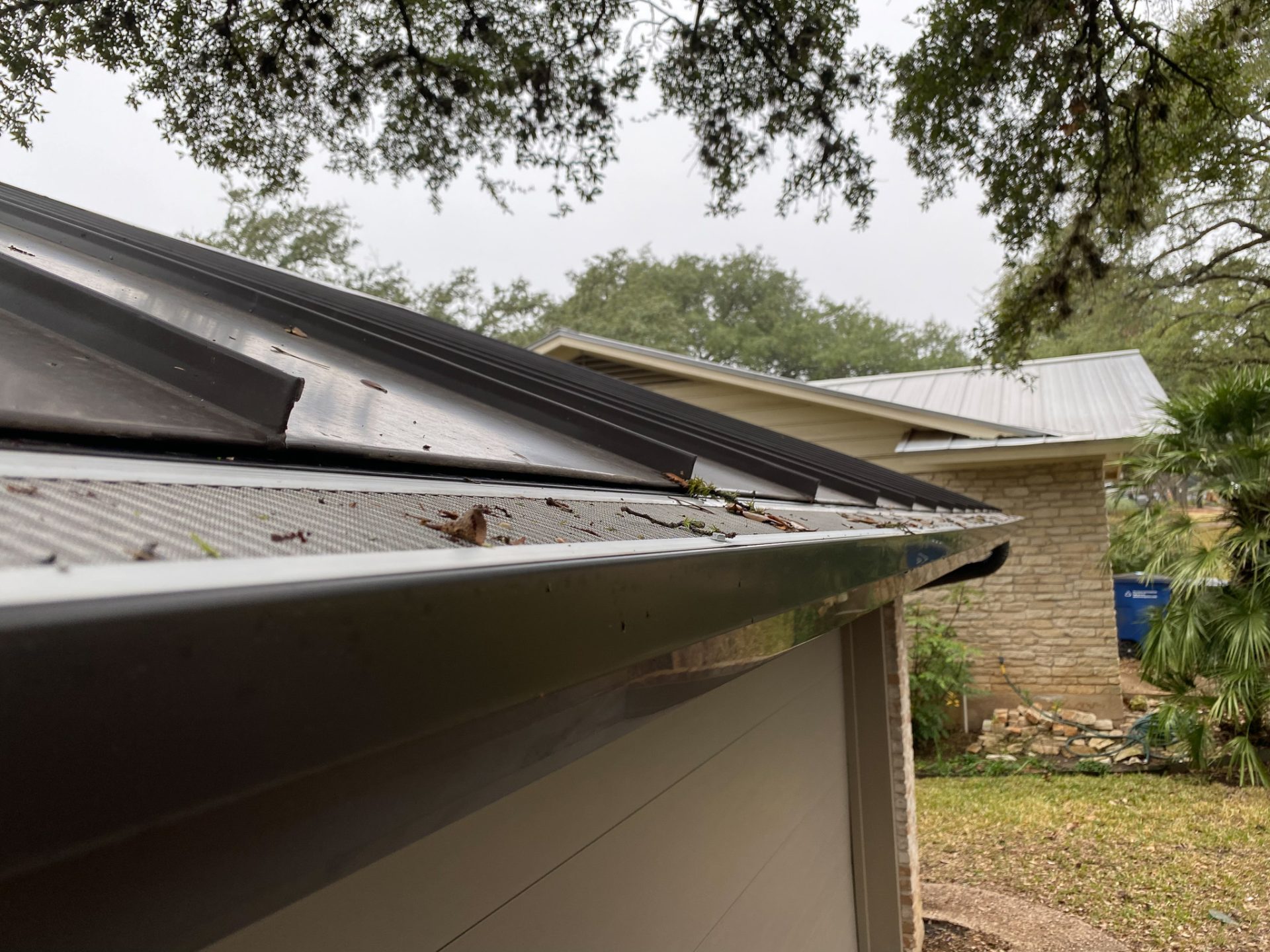 One of the most important aspects of being a homeowner is maintaining the integrity of your home's foundation. So what do you do? Catch the rainwater as it runs off your roof and channel it away from the area of your foundation. Non-functioning rain gutters are the cause of these problems in 90% of all homes that have rainwater damage. That's where a professionally installed gutter and downspout system comes in.  When you control the rainwater runoff, not only are you protecting your foundation, but you're also eliminating other potential damaging problems to your home, such as:
Water Stressed Foundation
Washed Out Landscaping
Leaky Roof
Rotted Out Fascia Board
Damaged Siding and Masonry Due to Rainwater "Splashback"
Water Pooling
Flooded Out rooms
Mold and Mildew
Loss of Storage Space Due to Dampness and Odor
Flooded Backyard
Rotted Out Exterior Doors
Damaged Windows Due to Rainwater "Splashback"
Stained Siding and Masonry
Without properly installed quality gutters, the rain will introduce water back to your home causing rot damage to exterior doors and windows, and other wood which can result in extensive damage and expensive repair work. The water can also damage landscaping and even your foundation. When it rains it is also very windy at times and that is what will cause the damage to occur with poorly installed or clogged gutters (like the one shown) just as with no gutters at all.
Seamless Gutters vs. Regular Gutters
Installing gutters and downspouts is a simple way to preserve, protect your property, and reduce home maintenance costs. Seamless gutters are made using a process known as cold forming that allows your gutter system to be made right at your home. This process produces a long, continuous piece with no joints or seams. Why? Because an area with a seam is where gutters can rust, corrode and eventually crack and have to be repaired or even replaced. A seamless gutter is made to last.
Our aluminum gutters, which don't rust, are coated with a hard, enamel finish to further protect them against the elements, giving you and your home years of worry-free protection. You only have to keep your gutters clean, so water can easily flow through. It's suggested to clean your gutters twice a year or if you want maintenance-free gutters, install gutter guards so you'll never have to clean your gutters again!
Find a Gutter Service Near You
Gutter Services
If you're looking for distinctive and attractive new gutters, you've come to the right place. It can be challenging to accept that you may need new gutters, but it is better to do so now rather than later, especially since worn-down rain gutters can cause problems for your home or commercial property. Texas Gutter King –  Houston is veteran-owned and operated. You get quality products, along with professional service and installation, all at a reasonable price that's easy to afford. Aside from comprehensive gutter repair services, we also provide residential and commercial gutter installations in various colors and materials to match your building or home. Because we are a Texas-owned and operated business, we will respond to your request as soon as possible.
Seamless gutters
Half-round gutters
Gutter maintenance
Gutter extensions
Leaf screens
Home Gutter Installation
Quality gutters can prolong the life of your home and prevent significant issues such as roof damage, mildew or mold growth, and flooding. Our team will provide dependable gutter installations that work to safeguard your building from the elements as your reliable source for gutter installations in the Houston area.
Commercial Gutter Systems
We only use high-quality components. We are proud to provide commercial property owners peace of mind by ensuring that our products and services protect the building and those who occupy it. Texas Gutter King makes it simple to find the perfect gutter to match your commercial building by providing a wide range of materials and colors.
Gutter Protection
Standing water can destroy your gutters and roof, and uncontrolled overflow can cause puddles that can harm your foundation.  Don't let clogged gutters wreak havoc on your home! Gutters are meant to capture the rainwater from your roof and carry it safely into a downspout – away from your soffit, fascia, and foundation.  But unprotected gutters also capture leaves, twigs, and other organic debris that can cause them to clog during rainstorms, becoming a severe nuisance to the integrity of your home.  Clogged gutters can be responsible for:
Washing away your expensive landscaping.
Fascia board and exterior door rot.
Soil erosion around your home.
Water damage to your foundation.
Mosquito and insect infestation.
Texas Gutter King offers low-maintenance Gutter Guards that will help eliminate the need to clean your gutters and facilitate proper water flow and drainage in your gutters and downspouts.  This action will prevent the costly repairs associated with clogged gutters. Let Gutter King help prevent water damage from ever occurring to your home.
What Do We Do?
We've established a reputation in Houston as a dependable and hardworking gutter installation company. We walk our customers through every step of the process and never recommend a service that isn't absolutely necessary to keep your property in good condition. When the time comes, we hope you will choose Texas Gutter King to replace your gutters.
Protect your home or commercial property against the harmful effects of rainwater that can damage your foundation. Find out more about how an efficient gutter and downspout system can prevent erosion around the base of your home by contacting Texas Gutter King today.