Protect Your Home With Custom Gutters
Home maintenance is essential for keeping your home looking nice and functioning properly. Gutters that are left in disrepair or unattended can cause major problems for your home, so don't let this happen to you.
Texas Gutter King, a leading gutter company in San Antonio, and other Texas cities offers the most cost-effective gutter maintenance and repair services in the area. We specialize in both business and residential gutter installation and ensure that water flow is improved so that it does not enter your house. Contact us for a free estimate for gutter installation or repair today.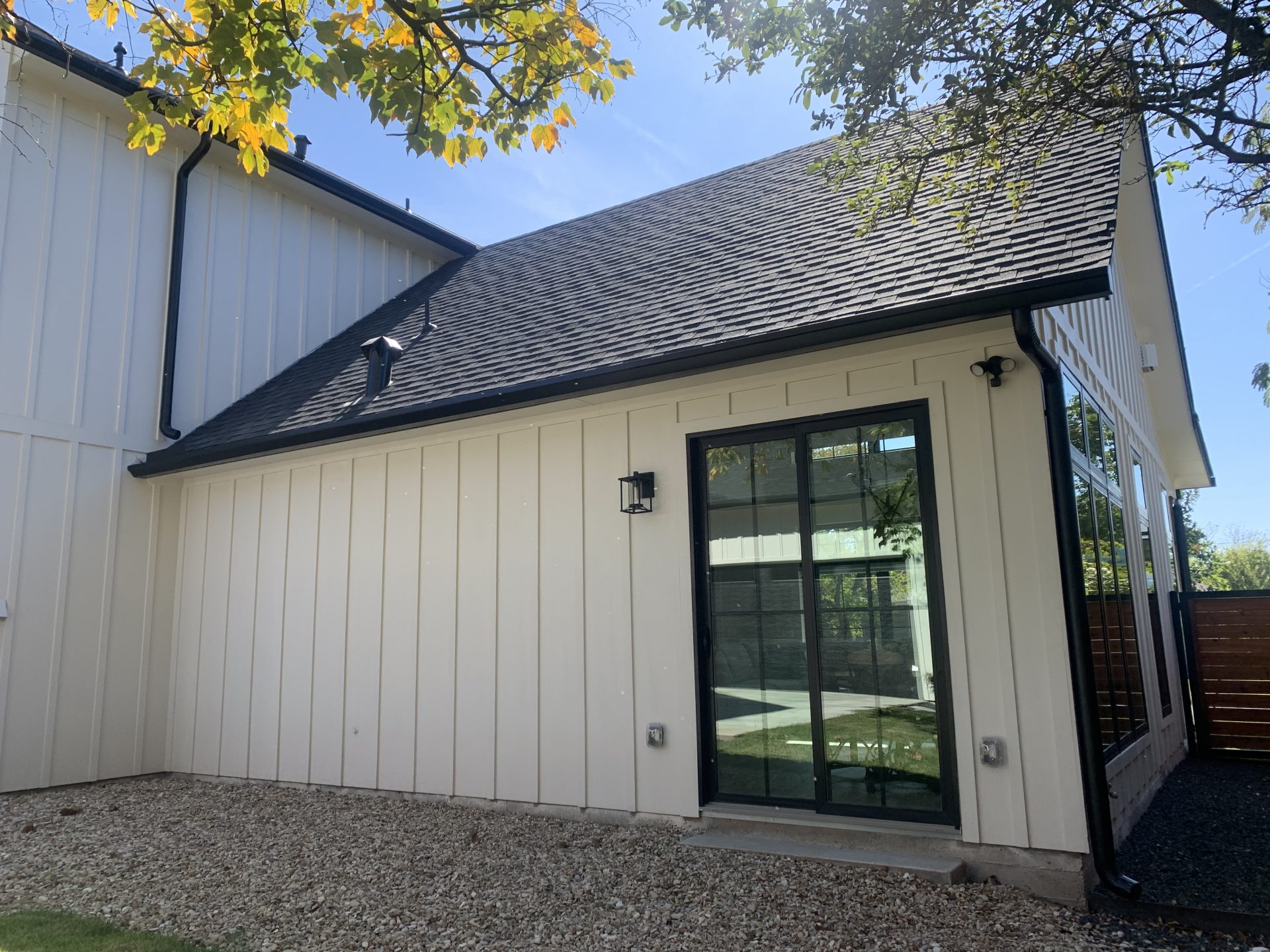 All seamless gutters are made to order on-site. We have over 30 different colors to choose from. Texas Gutter King is a locally owned and operated seamless rain gutter business that provides excellent customer service. We complete the job correctly for you. Texas Gutter King can handle even the most difficult gutter-related tasks. Whether the job requires the use of 5-inch, 6-inch, or 7-inch K-style aluminum or copper gutters, custom radius, or half-round installation, our experienced installation crews will complete the job professionally, efficiently, and safely.
Gutter installation, repair, and cleaning on all types of properties, including single-family homes, townhouses, apartments, condominium complexes, and commercial buildings, are all part of our comprehensive list of services for homeowners and builders.
Some of the most common indications that your gutters need to be repaired or replaced are:
Rainwater coming from places it shouldn't be
Gutters sagging or pulling away from the structure
Rainwater is collecting on the roof near the gutters.
Roof rot is evident
The paint on the exterior siding is peeling.
Mildew or Mold near your roof
A quality roof requires quality gutters. Even seemingly minor damages can quickly escalate into major issues if not addressed promptly. However, you do not have to let the situation worsen before calling Texas Gutter King. We will gladly assess the situation and take all necessary steps to correct and repair everything. You can be confident that your gutters will be in excellent condition after our service.
Gutter Services
Gutter Maintenance
Gutter Extensions
Seamless Gutters
Half-Round Gutters
Top-Rated Gutter Installation
Like many Texas homes, the accumulation of water on your house can prove to be quite a challenge. If you've seen the damage from your roof's exposure to mother nature, you know exactly how tough it can be. By installing a robust gutter system, you can divert water away from your roof to avoid water damage and leaks. As a result, your roof, siding, or basement won't build up as much mold and mildew, which can lead to potentially harmful effects for you and your family. Whether you're looking to install completely new gutters or replace your existing ones, it's always a good idea to get the most state-of-the-art gutters to protect your home effectively.

At Texas Gutter King, we pride ourselves on being the leaders in gutter installation for San Antonio residents. Over two decades of experience make us skilled in installing and replacing best-in-class gutters for your home. There isn't a house profile or project that's too challenging for our team to tackle. Our team consists of only Texas Gutter King employees, so you can be sure you're getting the utmost care in your gutter installation. We're confident we can install an efficient gutter system to prevent damage and increase the longevity of your home. We also believe your gutters shouldn't be an eyesore for your home, so we offer the largest selection of gutter styles, materials, and profiles to give you the variety you need to match your gutters with your house.
Expert Gutter Replacement
If you're in Central Texas and are searching for a gutter replacement or installation, contact our team of trusted experts at Texas Gutter Gutter King. We offer exclusive gutter styles and fully insured gutter installation. When you schedule a consultation, we'll give you a free estimate to provide you with visibility into the details of your project. Our gutters are fully insured and bring the best industry warranty of 15 years or a lifetime, so you don't have to stress about the ongoing cost of repairs and maintenance. We look forward to learning more about you and your gutter installation and replacement needs!
Repair and installation of downspouts
Having the right downspout for your gutter system can significantly improve the curb appeal of your home. Not to mention that it will keep the gutter system in working order. You will be able to find exactly what you need with our extensive selection of materials, shapes, colors, and finishes. Texas Gutter King will handle the entire installation process. Furthermore, we can inspect your gutter downspouts for signs of clogged gutters, sagging, leaking, or draining too close to the foundation, and repair or replace them as needed.
What Do We Do?
We've built a reputation as a reliable and hardworking gutter installation company in the Central Texas area. We walk our customers through each step and never recommend a service that isn't absolutely necessary to keep your property in good condition. We hope you will choose Texas Gutter King to replace your gutters when the time comes.
FAQ on Texas Gutter Replacement & Installation
We're the experts in gutter replacement and installation, so if you have any questions about your home's gutters, you've come to the right place. Here are some answers to some of the most frequently asked questions we get about gutter replacement and installation:
How much does it cost to replace gutters around house?
The cost of replacing gutters varies depending on the size of your house, the type of materials being used, and the labor involved. On average, it can range anywhere from $2000-$6,000 for a basic gutter system.
Does Home Depot install house gutters?
If you're looking to install gutter systems in your home, you can skip the trip to Home Depot. Not only does the store no longer offer any installation help, but they consider it a relatively simple DIY project that doesn't require any specialized tools or industry knowledge.
Is replacing gutters hard?
While it can be challenging, replacing gutters doesn't need to be complicated or difficult. With proper planning and preparation, you can successfully replace your gutters without any issues.
Why are new gutters so expensive?
New gutters are expensive because they require specialized materials and skilled labor to ensure that they're installed properly and safely. Additionally, gutters need to be regularly maintained in order for them to function correctly.
Is it worth doing gutters yourself?
It depends on your level of experience and comfort with DIY projects. If you're confident in your ability to install gutters, then it could be worthwhile trying to do it yourself. However, if you don't feel confident or comfortable with the project, it may be better to hire a professional contractor.
What do I need to know before replacing gutters?
Before replacing your gutters, you should make sure you have all the necessary safety equipment (goggles, gloves, etc.), as well as the correct tools and materials to complete the job. You should also spend some time researching different types of gutter systems and how they work. That way, you can be sure to choose the best one for your home's needs.
What are some signs that your gutters need to be replaced?
Some common signs that your gutters need to be replaced include visible wear and tear, sagging sections, rust spots, water leakage/pooling near your foundation, and debris buildup. If you notice any of these issues, it's probably time to consider getting new gutters.
How many years should gutters last?
The typical lifespan of a set of gutters is 15-20 years, depending on the material they're made from and the climate they're exposed to. However, regular maintenance and repairs can help extend their lifespan significantly.
How much does Lowes charge to install rain gutters?
Unfortunately, big-box stores like Lowe's and Home Depot can often charge significantly more than a smaller contractor would. This is because they hire subcontractors (the same ones you can find on Google) and add an additional 30 to 40 percent markup. While these stores may seem more convenient due to their availability and wide selection, it is important to remember that the same quality of services can be found from an independent contractor for much less. Doing your research and consulting both local contractors and online directories can save you money in the long run.
Are vinyl rain gutters any good?
Vinyl gutters may have a low-cost up-front, but they have a shorter lifespan than many other gutter materials. This means that despite their affordability in the short term, vinyl gutters often require frequent replacement and can become costly to maintain over time. In addition, due to their less-durable nature, vinyl gutters may struggle to stand up to extreme weather conditions such as heavy rains and high winds. For these reasons, professional contractors generally advise against installing them and favor other long-lasting solutions such as aluminum, galvanized steel, or copper gutters.
What size gutters for a house?
The size of gutters for a house will depend on factors such as the roof pitch, rainfall intensity, and size of the home. Generally speaking, 6-inch K-style aluminum gutters work best for most houses.
Are gutter guards really worth it?
Gutter guards can help extend the life of your gutters by preventing leaves and debris from clogging up the system, therefore preventing water damage caused by overflowing. As such, they can provide long-term savings when it comes to maintenance costs.
Is it easy to replace gutters yourself?
It depends on your skill level and access to the necessary tools and materials. If you're confident in your abilities and have all the proper supplies at hand, then it could be possible to do it yourself. Otherwise, it may be better to call in a professional contractor who specializes in this type of work.
How do you remove old gutters?
To remove old gutters, start by disconnecting any downspouts and drain lines, then unscrew the old gutter sections from your fascia board before gently pulling them away from your roof line. Be careful not to damage any shingles while removing the old gutters.
Do I need rain gutters yes or no?
Yes – rain gutters are essential for collecting and managing runoff from your roof in order to prevent water damage and flooding.
Should gutters be installed before or after new roof?
Gutters should typically be installed after the roof has been put in place since roofing shingles must overlap the top edge of the gutter for optimal protection against water infiltration into your home.
What problems can gutters cause?
Improperly installed or maintained gutters can lead to serious problems such as water damage due to overflowing or blocked downspouts, which can result in costly foundation repairs or even mold growth inside your home.